Posted at 11:00 • 18 March 2020 • PodsBay Pty Ltd
---
We give a quick overview of the Unbox Therapy BlackPods and help to answer a common question "Which Brand of BlackPods To Buy?" as there are many, many sellers of Blackpods and Pro's out there currently - Most of which should be avoided and cannot be trusted. After reading this short article you will understand more about Who Made BlackPods and we've even included a discount code in here somewhere for those who are clever to find it.
Unbox Therapy:
Last year in 2019 Unbox Therapy did a review on the TWS Matte Black Earbuds and the video has reached around 5million+ views at this point. However the website which originally was mentioned (BlvckNoir) is no longer available and many customers are asking why? Many customers are also reporting in the comments being scammed.
BlackPods or Blk Pods as they are sometimes called have been for sale since 2019 but most people did not know about them until Lewis reviewed them on his channel. Unfortunately Lewis made the mistake of reviewing a website that was not a real business and has since been closed down for fraud (basically this means they didn't send products to their customers and tried to steal money).
You can still buy the same product safely though as many websites sell it - but we strongly recommend you only purchase from a business that offers PayPal as a payment option so you are protected. We've included some products further down the page we recommend (that also accept PayPal).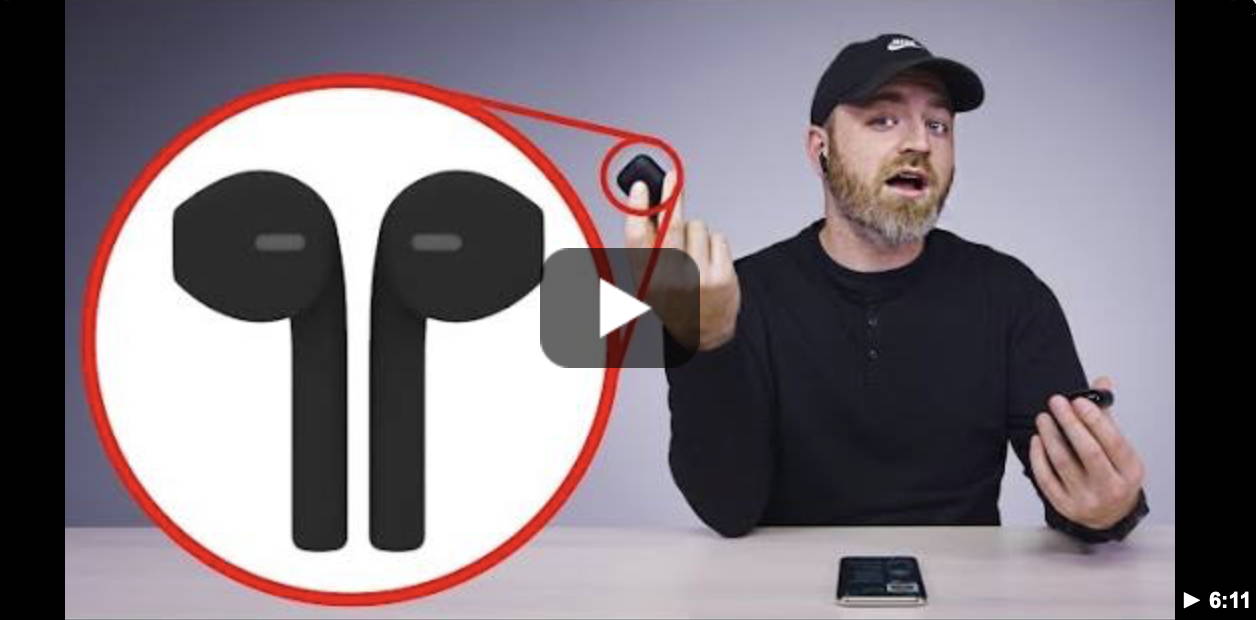 Which Brand Of BlackPods To Buy?
This question may seem simple but unfortunately in todays Fake Airpods Clone market it is a more difficult question to answer but we will try to help you out. Most Black Pods websites are 100% scams. One of the easiest ways to tell (although not always a guarantee) is if the website selling Blackpods does not accept PayPal as an option then it should not be trusted.
PayPal is there to guarantee that if you are not sent your order by the website you bought from then PayPal will refund your money. You have no such protection using credit cards.
So there are many "brands" of Matte Black Earbuds out there but all of the Earbuds are very similar in function and features. All have the H1 chip and connect to iOS devices using the "Popup". All of them look very much the same in visual appearances. The main difference are in the hardware, speakers, components and things like that.
Most importantly is to offer a high grade D4 JL Chipset which ensures good bass, stable connection and decent battery life. The products we recommend below have that. But most importantly do not trust websites that don't use PayPal
BlackPods Are They Good?
Yes! That is the most simple answer can give you. They are 25% the cost of real Apple Airpods and perform somewhat the same. So if you're a younger person or if money is tight at the moment then BlackPods are a unique looking Matte Black TWS Earbud unit.
Many people have been asking for Black Apple Airpods for years but for some reason Apple has never created such a product. Fortunately with Matte Black Earbuds there are alternatives - and very reasonable priced ones too.
How To Get 50% Off BlackPods?
The truth is if any business can afford to sell something at "50% off" then that business is probably lying to you and a complete scam. No real business can afford to sell a product at 50% discount and still make money - this is not logical.
However we can help you with a small 10% discount off the products below. Just use code #BLOG at the checkout to claim your 10% off!
Remember - do not trust any site that is always running a huge discount or sale all the time. Real businesses don't do that unless they are shady.
Sorry we can't offer you a 50% Off Blackpods code 👍
BlvckNoir BlackPods - Were They Ever Real?
The simple answer is no they were not. BlvckNoir produced limited quantities of units to send as samples to big YouTubers like Unbox Therapy and EverythingApplePro to review. Their main goal was simply to produce enough "sample units" to be able to send to some influencers and YouTubers to make it look like they were a real manufacturer.
Once the video reviews were done on YouTube then millions of people watched the videos and thousands of people purchased the product. By the time people noticed the product was not being shipped and no units were being sent (a few months later) BlvckNoir had already stolen 100's of thousands of dollars in free money.
As a result the credit card networks banned them and their website no longer exists as members of the United States AG office are investigating the individuals who started that website for fraud. It should also be mentioned many of the other BlackPods websites that are still around do not accept PayPal and we strongly suspect they are owned by the same criminals that started the BlvckNoir scam.
We only recommend the products below because they are Guaranteed By PayPal
Our Most Recommended TWS Products
---
Are BlvckPods Blackpods?
The simple answer is yes. Some companies call them different things but anything called a Blk Pod or a BlvckPod or a BlackPod is basically the same thing just some companies name them different.
BlackPods Features and Functions:
All our BlackPods come with the H1 Chip, bass boosting technology to give you that low end bass sound and improved JL Chipset to ensure stability with the Bluetooth 5.0 connection and battery life lasts around 3 hours and our weight is about 46g.
Each BlackPod comes with a 30 Day Warranty Guarantee and we offer free worldwide delivery as well as shipping insurance to cover you incase of loss or failure of delivery.
You also have the option of buying with Sezzle or Klarna (Buy Now Pay Later) if finances are tight.
Don't just take our word for it though, the BlackPods has been Reviewed by other large YouTubers before, we recommend watching the video below if you're curious to understand what they look like and their functions